Did you know that Dimitri Vegas proposed to his partner Anouk in Ibiza? It's plain to see that Ibiza is becoming more and more popular as a place to say 'I do'. Maybe it could also be the island for your marriage proposal?!
Ibiza is known for its vibrant nightlife, but it has lots more to offer than just that. Way more actually! The island boasts some beautiful gems. We also highly recommend those locations, as they are perfect backdrop for asking your partner the big question.
Why choose Ibiza for your marriage proposal?
The ambience
First off, there's a special, happy ambience in Ibiza. Besides the party mood, this island boasts a laid-back, hippie vibe. It's also known for the 'rich and famous' who go there.
The scenery
Ibiza is a beautiful island with white beaches, swaying palm trees and an aquamarine sea. Even though the island is only 40 km long, Ibiza is blessed with enthralling scenery. Much of it is yet to be discovered by many tourists. Particularly striking are the countless pine trees on the island. There are also many agricultural fields growing grain, thyme, lavender, rosemary, etc.
Numerous enchanting locations
Ibiza offers many magical spots where you can make your marriage proposal. Do you want to say 'I do' on the beach, with the waves lapping at your feet? Or would you rather enjoy a marriage proposal with breathtaking views and a beautiful sunset? There's more! You can also opt for a proposal on a boat, on Ibiza's aquamarine waters. All amazingly romantic, in our opinion!
Idyllic spots for your marriage proposal
The Bay of Portinatx
Do you like the sound of a marriage proposal in a bay setting that looks like something out of a painting? We mean those paintings depicting an idyllic bay with azure blue water, rocks dotted with pine trees and a bobbing sailboat or two. Can you picture it? The north of Ibiza has plenty of such hidden coves. The Bay of Portinatx is particularly sublime! As you bob about peacefully on the Mediterranean, having first had fun snorkelling, you can bring out the ring. You couldn't get more idyllic than that, surely? Guaranteed, your partner won't be able to say no in a setting such as this.
The old town of Dalt Vila
Dalt Vila is the old city centre of Ibiza. It's even on UNESCO's World Heritage List. This city is surrounded by huge ancient walls dating back to the 16th century. It also towers over all other cities, as it is the highest point on the island. Our tip: have dinner at La Oliva in the Dalt Vila. The food is typically Mediterranean, and it is beautifully situated. During the romantic dinner, it's over to you. Make sure to take your engagement ring with you!
Don't have an engagement ring yet? We have the ultimate guide to engagement rings!
The island of Es Vedra
The island of Es Vedra is considered the place from which Ibiza derives its magic. Which is why it's our absolute favourite. We recommend you start the day with a nice walk on this island. One of the hikes ends at a stunning viewpoint. Around 6 p.m. enjoy a romantic picnic overlooking the beautiful vistas. You'll be sure to enjoy an unforgettable sunset in this magical setting. Just as the sun is about to set, the moment has arrived: your marriage proposal!
Original ideas for your marriage proposal on Ibiza
Freus Marine Reserve of Ibiza and Formentera
Are you keen divers? If so, this idea will blow your mind. You could ask your partner to marry you in a unique underwater setting. Plan your marriage proposal in the Marine Reserve of Freus and Formentera. This is a protected marine area that lies between the islands of Ibiza and Formentera. This underwater world is unique and untouched. You'll find caves, colourful corals and wrecks. Diving is only allowed with a permit but once you have that, you can start planning your marriage proposal in Ibiza. Maybe you can write "Will you marry me?" on a sign? One tip: make sure it's a waterproof sign!
Private cruise or boat trip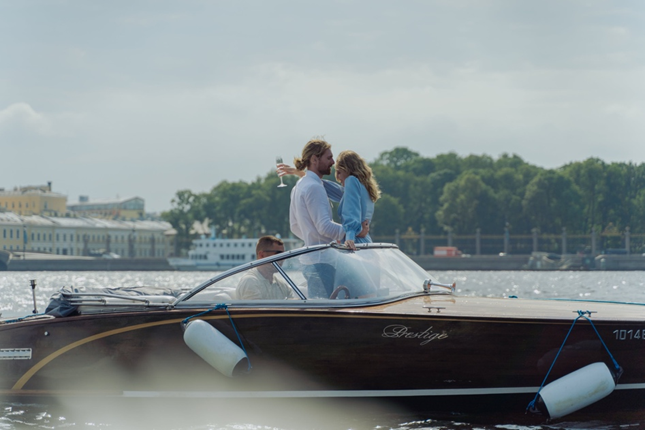 How memorable would it be to say 'I do' in the middle of the Mediterranean? There are a host of cruises you can book. There are even private cruises or boat trips with snacks and drinks. Some sunset boat trips are also available. The day before, you could call the boat trip organisers to arrange something special for your onboard marriage proposal.
Quad tour
Are you adventurous, and a quad bike tour sounds just up your street? If so, you could combine romance and thrills all in one. Ride on dirt roads and old island tracks, and during a short break the opportune moment might just arise.
Have you been bitten by the Ibiza marriage proposal bug? That's completely understandable. We say, buy your engagement ring and book a plane without delay! It will be the trip of your dreams!
Find plenty more adventurous ideas for your special moment here.